Dear Friends,
Years back in 1991, after joining shipping, my first voyage abroad was to Vancouver, Canada. As usual, for most new seafarers, my first destination after stepping on to a foreign port was the Seafarer's Club- to make a phone call to my mother. But, the ambiance of the Club, the facilities they provide and the warmth and compassion with which they entertain the seafarers- it was truly amazing!!!. In my ten years of seafaring, I must have visited atleast fifty seafarer clubs across the world; and I have always wondered when can we have a similar facilities for our seafarers in an Indian port.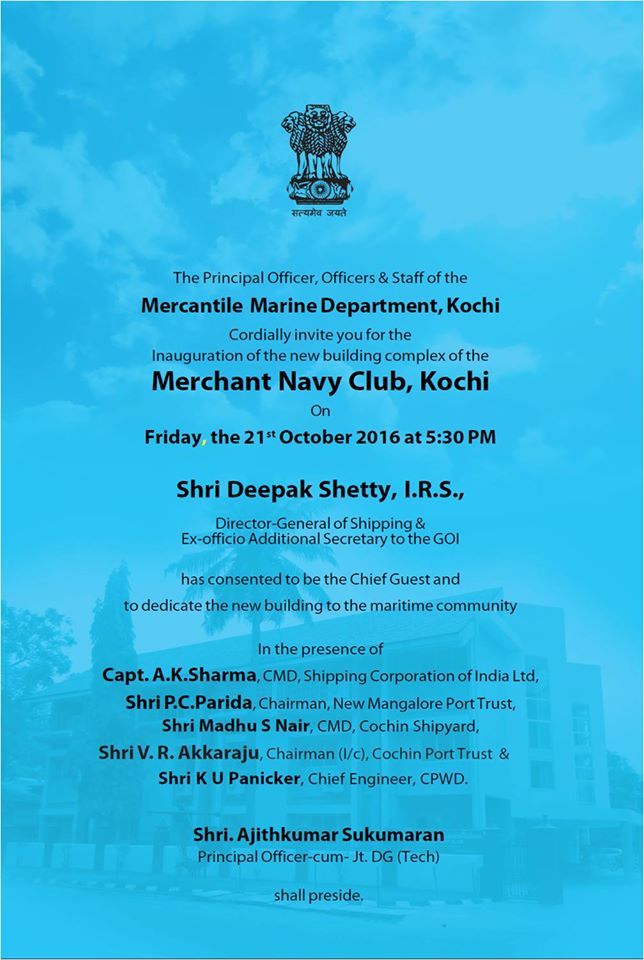 Having left the sea life and after 15 yrs of association with Maritime Administration, it is my pleasure and honour to announce the inauguration of the new building of the Merchant Navy Club, Kochi on 21st October 2016, by the Director General of Shipping. And believe me- the facilities there for our maritime community will be comparable with any of its counterparts across the world.
It is internationally recognized that the seafarers, after weeks and months of isolated life onboard ships need shore based recreational and welfare facilities within their reach to refresh and recuperate themselves and 'seafarers' Club' is therefore an inseparable part of any international Port facility.
Merchant Navy Club at Cochin was established in 1943, under the British regime, and when the British withdrew in 1947 they left behind an indispensable and significant meeting hub for the mariners of Kochi. In 1972, it was brought under the management of a Charitable Society, under the custodianship of the Director General of Shipping, Government of India. The Principal Officer, Mercantile Marine Department, Kochi, a subordinate office of the Ministry of Shipping is the ex-officio Chairman of the Association.
The Merchant Navy Club, Kochi, today, provides a host of facilities for the maritime community- Seafarer Hostel with A/C & Non-A/C accommodation, modern swimming pool, A/C convention centre, Party halls, multi-cuisine restaurant, Business centre, Lounges, Snooker & other recreation facilities etc.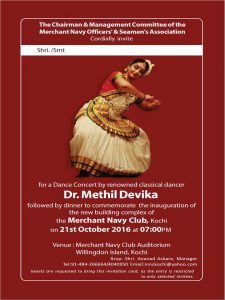 To cater to the needs of the fast growing Port of Cochin, Govt of India was kind enough to construct a new building for the Merchant Navy Club, which will have two more Lounges, multi-purpose halls, Billiards & Indoor recreation centre, Suites & Executive rooms etc.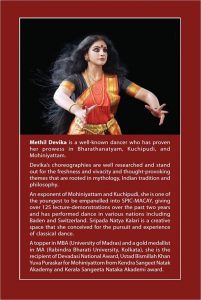 The building will be inaugurated on Friday, the 21st October 2016, by the Director General of Shipping, in the presence of Capt. A.K. Sharma, CMD, Shipping Corporation of India. The public function will be followed by a dance concert by renowned Classical dancer Dr. Methil Devika and dinner as usual.
On behalf of the Management Committee of the Merchant Navy Club, Kochi, I take this opportunity to invite to grace this occasion, each and everyone connected with shipping at Kochi, not to mention our beloved seafarers and their families….
Please do share this with your friends as a proud show-piece of the maritime community of Kochi…..
With Warm Regards,
(Ajithkumar Sukumaran)